Posted by Revamp UK on Jun 25th 2019
It's no secret that oiling hair has been beneficial for its growth and overall shine but there has always been a debate as to which is best. Besides everyone has a hair-care routine until the next 'super-ingredient' comes out. Whether it's to get rid of dandruff, relieve a headache or just healthy-looking and shiny hair, oil for hair definitely has a multitude of benefits. Revamp products come with super-smoothing Progloss oils which is a unique combination of Keratin, Argan and Coconut to give you sleek and shiny hair. We've broken down the benefits of each oil to give you more insight into the world of the Progloss oils. Let's talk about them in-depth.
Argan Oil
Starting off with the Argan Oil, this oil is extracted from nuts that grow in fruits borne on the Argan tree, native to Morocco. Also known as Morrocan oil, argan oil will do wonders for your hair. Packed with beneficial ingredients like vitamin E, ferulic acid, and fatty acids, as well as antioxidants, which fight UV rays, and prevent hair cell damage, just a few drops of Argan oil will not only protect your hair from heat, but will nourish, and moisturise it, too by sealing hair's cuticles, minimising the split ends and reduce dryness and brittleness. Leaving your hair soft and manageable, argan oil allows for hair to retain its healthy lustre.
Also known as the "liquid gold", Argan oil is perfect for more frequent use, or a finishing oil after you're done styling your hair, as it is not as greasy as other oils. The oil adds shine to hair and adds a protective coating that also moisturizes. When applied to the scalp, the vitamins in this oil speed up cell regeneration, which helps hair to grow faster. A little goes a long way, argan oil will give you the day-to-day protection that's vital for keeping your hair looking its best.
Coconut Oil
Coconut oil keeps frizz at bay and has antibacterial and antifungal properties, so when it is utilized on the scalp it can help treat dandruff and other skin conditions. Most importantly, this oil cleans away dead skin—this allows for increased follicle growth which can lead to a fuller and healthier hair growth, strengthening hair and even preventing hair loss.
Besides this, you can also use Coconut Oil as a good leave-in deep conditioner and a heat protectant. Known for its intense hair moisturising properties, Coconut Oil prevents hair loss, an, therefore, aids in hair growth. Because of its moisture-retaining properties, coconut oil stays inside the hair instead of evaporating, making it one of the most effective hair treatments. Just a tiny bit is enough to smooth down your ends.
Keratin Oil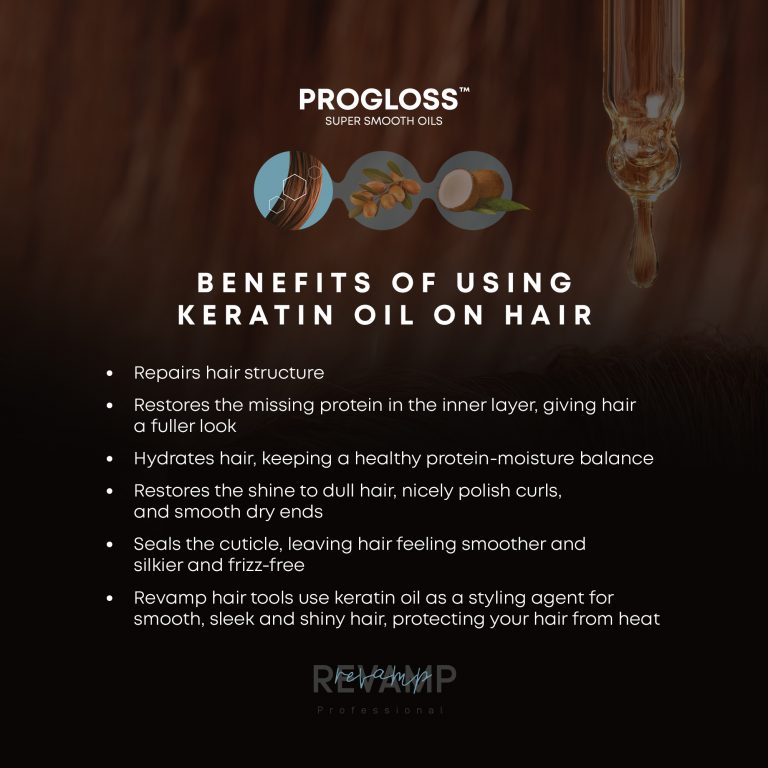 The 3rd ingredient catering the Revamp Progloss look, Keratin oil is great for dry, parched, brittle or damaged hair. Keratin rebuilds from the inside out polishing the strands polished and making your tresses shinier and more durable. Keratin-infused oil repairs over-processed and damaged hair by bonding to the rough edges of the hair and covering the cuticles. This prevents breakage and allows your hair to grow longer. A keratin-rich oil will protect the hair from frizzing making it easier to style and hydrates the hair to maintain a healthy protein-moisture balance.
Progloss™
This unique combination of the Revamp Progloss oils is formulated to leave hair looking & feeling healthy with sleek and shiny results.
How we do this? - The science behind Progloss™
Revamp Hair styling tools are equipped with ceramic plates that are infused with argan oil that nourishes your hair with vitamins A and E and other essential nutrients to leave you with sleek, soft, and glossy hair after every use. As ceramic is a porous material which activates the oils' properties to transfer onto hair, the oil vaporizes when heated up and then micronizes when the plate hits the hair. It penetrates deep into the hair, strengthening the hair shaft while sealing the outer cuticle for ultimate shine and sleekness.
If you have oily hair you might be wary to try any oil. But when infused with the ceramic plates, the oil doesn't leave any greasy residue. The oil and protein blend is a little less product than you would normally use (because you're not reapplying oil each time you style), but the finish is just as smooth.
Revamp products with Progloss Oils
To get an irresistible combination of sleek and glossy hair, the Revamp Progloss™ Touch Digital Ceramic Hair Straightener is your best bet. The Advanced ceramic coated plates on this straightener are infused with Argan Oil, a natural ingredient renowned for its shine-enhancing properties, as well as Keratin and Coconut oils. When heated, they evenly emit through the plates and on to your hair. Leaving your tresses glossy, softer and straighter.
When it comes to hair must-haves, shine always comes top. Treat your hair to some therapy with the Revamp Collection, a range of products from Revamp to help you create styles whilst caring for your hair. If you want more intense shine, to tackle frizz or to have healthier looking hair in an instant then look no further. This clever range of tools incorporate the next generation of Advanced Ceramic plates, infused with Progloss™ super smooth oils – Keratin, Argan and Coconut for ultimate smoothness, styling your hair to perfection, making it shiny and healthy looking too.
#RevampYourLook