Posted by Revamp UK on Jul 9th 2019
Most of us own a simple hairdryer, but with the advent of technology, it has come a long way in the hair styling business. Once just a heating device that blew out hot air to help dry hair after washing, it is now capable of doing much more using Ionic Technology. Advancements in hair-drying technology may have made choosing a hairdryer overwhelming, read on as the jargon is well worth understanding.

What is "Ionic Technology"?
Ionic appliances work by interacting with what's on your hair rather than the hair itself to give you better results. Ions are naturally present in your hair and their positive charge may cause frizz and volume. To help with this, Revamp hairdryers are equipped with the Ionic Technology, that supplies additional positively charged ions for volume and negatively charged ions for a sleek and shiny salon finish.
Frizzy hair is mostly as a result of unsealed cuticle and positive ionic charge through the hair follicle. To balance the frizz, providing negatively charged ions neutralize the effect giving you a sleeker look.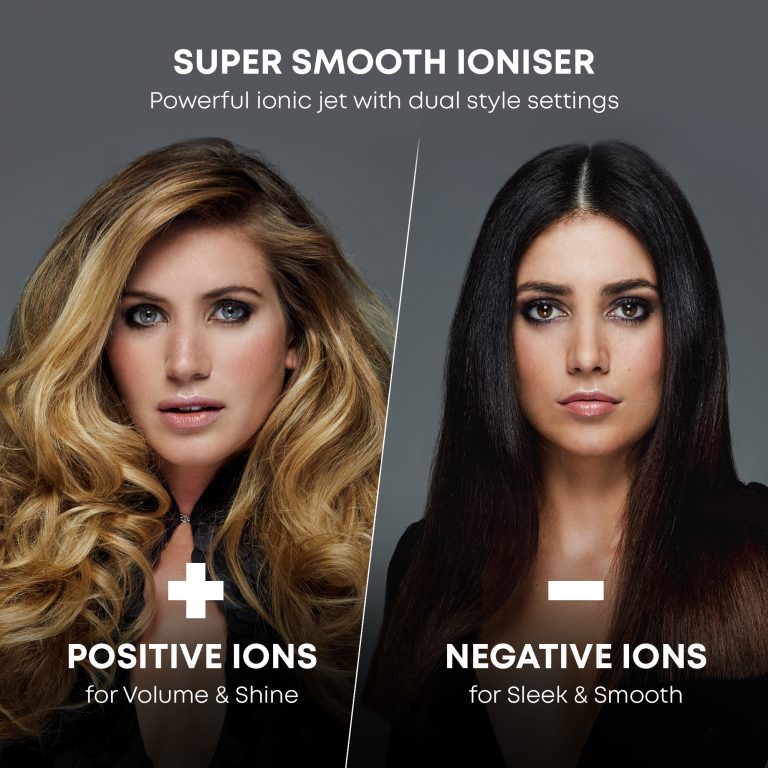 How Does an Ionic Hair Dryer Work?
While simple hair dryers usually just throw out hot air to dry your hair, all Revamp hair dryers come equipped with a built-in powerful ionic jet technology that produces 5 million ions/cm3, making the drying and styling process faster. As ionic technology breaks up water particles, this leaves hair feeling hydrated and less likely to tangle and frizz.
The micro-sized water particles moisturize the hair by penetrating the hair shaft. The negative ions then help to seal and flatten the hair cuticles and trap in the moisture for a shinier and more polished result. This will also get rid of static, minimising fly-a-ways and the accompanying frizz.
Benefits of an ionic hair dryer
An ionic hair dryer will set your silkiest hair with a salon-finish. The Revamp ionic hair dryers are equipped with a highly advanced & powered air flow motor that encourage fast hair drying which in turn reduces heat damage.
Here are some of the benefits of using Ionic hair dryers and air stylers:
If you're rethinking your hair styling options, be sure to check out the Revamp range of hair dryers.
Every blow dry should be something you look forward to. If you're someone that never uses a hair dryer, think about all the benefits of an ionic hair dryer.
#RevampYourLook